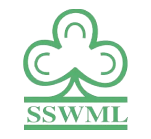 Emergence of "Shivalik Solid Waste Management Limited Unit – II" is yet another ongoing effort of Shivalik Solid Waste Management Limited to maximize operational excellence and efficiency across its endeavors, Shivalik Solid Waste Management Limited has embarked upon several research initiatives because of its firm believe that research and innovation is of paramount importance in the waste management industry and that research leads to path breaking innovations.
"Shivalik Solid Waste Management Limited Unit – II" has come up with various innovative, non-conventional, advanced treatment technologies for E- Waste
SSWML Unit – II is authorized and licensed by the State Pollution Control Board for re-processing of e – waste (procuring, processing & segregation).
We provide comprehensive E-waste Management & Handling services on a PAN Indian basis. We collect all types of E-waste like de-bonded assets or any other electrical &electronic equipment which have become obsolete end of its life; E-waste includes Batteries, CFLs, Tube lights, CDs, Toner Cartridges, Floppies, etc.
BHARUCH ENVIRO INFRASTRUCTURE LTD.(BEIL)
Bharuch Enviro Infrastructure Ltd. (BEIL) is a Company that specializes in the management of solid and hazardous waste. It operates a centralized landfill site along with a common incineration system built specifically for the safe and secure disposal of hazardous waste coming in from member industries in the region.
Located in Ankleshwar, the landfill site at BEIL is the first facility in India to be certified under ISO 140001, and is amongst the few elite facilities in the world to have been awarded this certification.
In addition to the management of hazardous waste, BEIL is also engaged in the management of organic (kitchen) waste collected from nearby households. This waste is processed in a Biomethanation plant using state-of-the-art technology to generate valuable fuel.
BHARUCH RESEARCH &CONSULTANCY PVT. LTD. (BRCPL)
We, BEIL Research and Consultancy Private Limited (BRCPL), a full owned company of Bharuch Enviro Infrastructure Limited subsidiary of Tatva Global Environment Private Limited (known as 'Tatva' group).
We at BEIL Research & Consultancy Private Limited have started offering following range of services under one roof:
Upliftment of used Drums & Containers for washing and to reuse it.
Designing, Engineering, Supplying, Erection &Commissioning of Water & Waste Water Treatment Plant's i.e. Sewage treatment plants, Effluent treatment plants, Reverse osmosis water system, Evaporator, Multiple Effect Evaporator, APCD's (All types of Wet Scrubbers), Water Softening plant, Chemical dozing system, Zero Liquid discharge plant, R.O Spares, Parts & Components, etc…
All type of Fabrication Works &Annual Maintenance Contracts for ETP/ STP/ WTP's etc.Our valuable clients can avail from us premium quality STP and ETP Annual Maintenance Contract Service. This service is performed as per the requirements of our valuable clients and the details written in the annual maintenance contract
Kitchen Waste Management through Biogas plants of all size & capacities as per requirement (30 Kg & 50 Kg per day);
Providing Environmental Consultancy also like preparation & submission of Feasibility Report, Six Monthly Compliances etc
ENVIRO TECHNOLOGY LTD.(ETL)
Enviro Technology Ltd. (ETL) specializes in the collection, transportation and treatment of industrial effluent, operating a common effluent treatment plant in Ankleshwar's thriving industrial estate.
ETL has garnered a rare accolade; it was awarded by the World Bank, Washington D.C. for having the Best Common Effluent Treatment Plant Design for treating waste from 250 small scale industries.
KERALA ENVIRO INFRASTRUCTURE LTD.
Kerala Enviro Infrastructure Ltd. specializes in the management of hazardous waste. It currently operates a hazardous waste storage and disposal facility in Kochi. The Company ensures that hazardous wastes generated by around 182 companies are collected regularly and taken out into the designated landfill site.
GHARPURE ENGINEERING& CONSTRUCTION (P)LTD.
Headquartered in Pune, Gharpure Engineering & Constructions (P) Ltd. specializes in the processing of municipal and industrial waste water as well as the supply and distribution of portable water to commercial, industrial and residential customers. In addition to these services, the Company effectively manages the treatment and disposal of sewage. GECPL holds the distinction of having received several awards from the State and Central governments.
TATVA GLOBAL WATER TECHNOLOGIES PVT.LTD.
Tatva Global Water Technologies specializes in the provision of water services and implementation of management systems to the water services industry. The Company's solutions address productivity enhancement and cost-efficiency right from integrated commercial and technical management systems to data validation and the reduction and control of non-revenue water, and 24×7 water supply.hydraulic design.
 The Company has been formed to cater to management services like 24×7 management contracts, O&M, consulting services and concession contracts. They take part in performance based contracts and have established metrics such as service coverage, quality and sustainability of services. The team at Tatva Global Water Technologies consists of local utility experts having more than 15 years experience in operations, design of water systems, metering, leakage management, and
TATVA ENVIROMENT SERVICES LLC. SULTANATE OF OMAN
Registered company in Sultanate of Oman promoted Tatva Global Environment Pvt. Ltd. (India) and Amit Dharamsey group, Oman. Completed total 450,000 sq.m of landfill works in Oman in 4 years. All the landfills constructed by TES are state of art facilities developed with Geosynthetic liner system as per USEPA standards